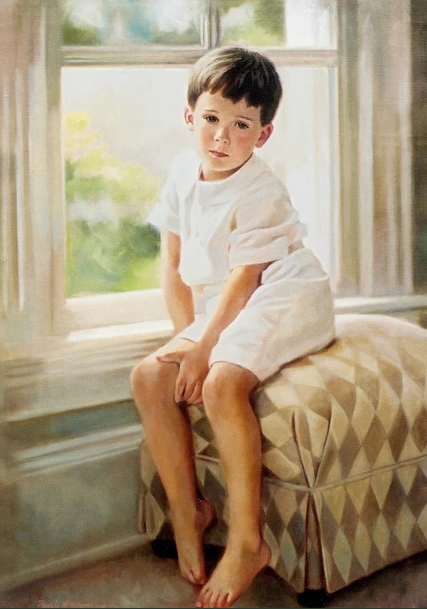 To ensure the best possible outcome and quality for your commissioned painting, Patricia Haskins McWilliams follows a distinct procedure. Not only does this allow the artist to meet her subjects and get familiar with their traits and personalities, it encourages communication and sets expectations for the piece.
If you are interested in commissioning a portrait please read the entirety of this page to fully understand the procedure and fee structure associated with oil portraiture in Nashville, TN.
Procedure
Ms. McWilliams comes to the client's location for a photography session, which takes approximately two hours. A broad range of photos will be taken, to ensure multiple angles, backgrounds, expressions and features are captured.
After photographing the subject, the artist then returns to her studio to select an appropriate pose and devise the composition. The artist will provide a general timeline for completion.
Upon completion of the portrait, the artist makes arrangements for it to be delivered to the client.
Fees
| | Child | Adult |
| --- | --- | --- |
| Head and shoulders | $8,500 | $9,500 |
| Three-quarter figure | $10,000 | $11,000 |
| Full Figure | $13,000 | $15,000 |
Please note that all travel, lodging, framing and shipping expenses are in addition to the prices listed above. Each additional figure on the same canvas will be 20% less than the above prices. The cost for painting animals or specific backgrounds begins at $1,000 and will be estimated depending on the size of the portrait and its complexity.
Commission a Portrait
If you're interested in commissioning a portrait painted by Patricia Haskins McWilliams, please contact the artist directly at 615.403.1745 or through the website.