Patricia Haskins McWilliams Portraits
Patricia Haskins McWilliams creates fine art oil portraits with impressionistic realism. She is available for painting commissioned portraits  focusing on children and adults, both individual and multiple figures. The artist is known for her uncompromising attention to detail and quality, using only the finest materials to achieve the ultimate portrayal of the subject.
View Artist's Portfolio Contact Us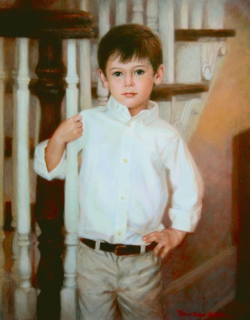 Capturing Personal Essence Through Portraiture
Patricia Haskins McWilliams is a nationally-known, award-winning portrait artist. She began portrait painting in Tuscumbia, Alabama in the mid-1970s and still today remains a much sought-after artist for family portraiture in the United States—primarily the Northeast and Southeast. Her awards include top honors in both New York and Atlanta National Portrait Competitions. Her portraits hang in private and public collections throughout the country.
McWilliams' paintings are revelations of personality and often, capture moments of great charm. Her use of unaffected poses and natural settings rendered in her own style of impressionistic realism makes her portraits compelling and believable works of art. Her work ranges from formal grand manner portraits of adults, to informal scenes of her very young subjects, intent on serious play or in reflective moods. McWilliams' uncommon rapport with children allows her to enter their world.
No matter the subject, the result is a breathtakingly lovely representation of intimate moments, recorded on canvas for posterity. McWilliams is demanding and giving of herself until both she and her client agree the painting is the ultimate portrayal of the subject.
The artist is a founding member of The Portrait Society of America and The Portrait Institute of New York.
Patricia is a self-taught portrait painter, influenced by renowned portrait artist John Howard Sanden, whom she met in New York in 1980, and for years considered a mentor.
Patricia exclusively uses 100% Belgian Linen canvases and the finest oil paints available, to ensure quality and longevity in every portrait.
A graduate of the University of North Alabama, Patricia studied art and earned a BS degree in Elementary Education in 1973.
Patricia welcomes commissioned work for children and adults alike, delivering life-sized portraits consistent with her reputation as an artist of superb quality.
Critical Acclaim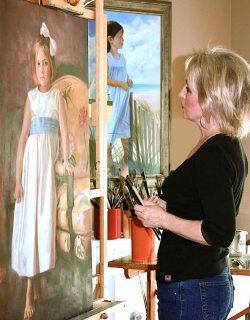 Patricia Haskins McWilliams' work has been the recipient of high praise from some of the country's preeminent authorities on portraiture. The following excerpt was taken from an article entitled, A Painter and a Portrait, written about the artist by Dr. Elizabeth Walter, the former Head and Associate Professor of the Department of Art at the University of North Alabama.
"McWilliams' ability as a portrait painter transcends the expected and deja' vu of the flattering pose and idealized features so often encountered in contemporary portraits. Her gift of captivating likeness on canvas resonates naturalness that creates a sense of well-being in the easy comfort of a familiar, pleasant atmosphere. The technical facility that she wields with virtuoso skill is evident more for its modest and subordinate statement than for the bravura of its truthfulness in the personality of her subject. She is able to emphasize those multiple complexities and hidden qualities with great latitude that defines the unique shadings of the individual's personality."
Commission a Work of Art
To commission a portrait by Patricia Haskins McWilliams, please contact the artist directly for more information about procedures and fees.
McWilliams clientele extends far and wide across the United States in cities such as:
Atlanta GA
Chattanooga TN
Memphis TN
Charlotte NC
West Palm Beach FL
New York City NY